PSG Activities and Events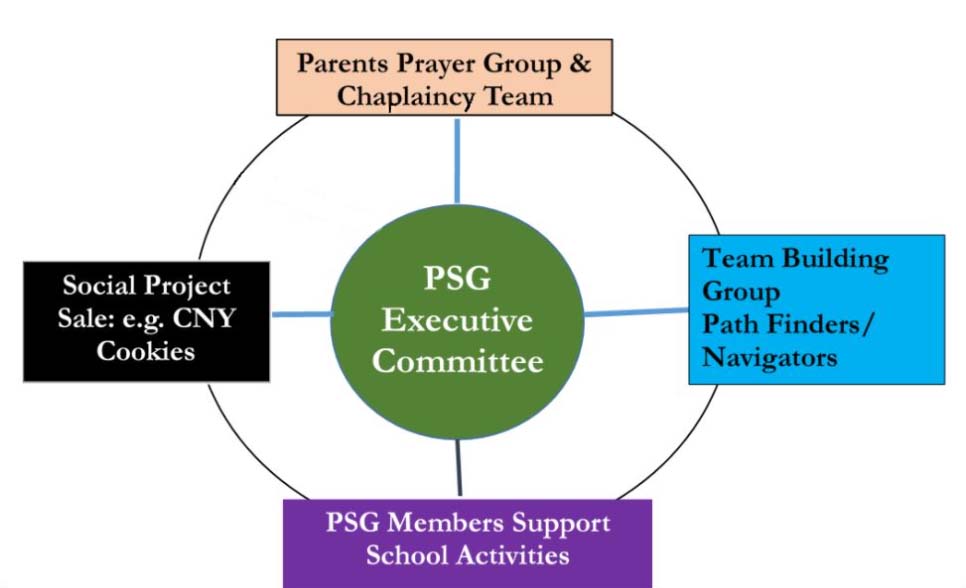 Parents Prayer Group
As a Parent Prayer Group, the team of parent volunteers supports one another though prayers and actions.
Conduct prayer meetings twice a month as we pray for the school, students, teachers and parents.
This is conducted every 1st Monday and Every 3rd Thursday of each month.
Path Finders/Navigators
This programme supports the school in their Education and Career Guidance Programme in the following:
Participate as Guest speakers in the School Career Day
Work with School for industry visit for students
Provide opportunities for our students to attend up to 2 weeks of internship attachment to gain valuable work life experience
Interviewers for Mock Interview sessions to prepare Sec 4 & 5 girls for EAE/DSA applications to tertiary institutions.
Attend Enhance Career Guidance (ECG) programme organised by MOE representing the school and share knowledge from the ECG programme
Social Enterprise Project Sales
A PSG fund raising initiative to support the school's Pocket Money Fund for financially needy students.
The team of volunteers organizes the sale of Mother's Day Gift Set for students to show appreciation to their mothers.
All proceeds after deducting cost are donated to the School Pocket Money Fund.
PSG Support - School Activities
Volunteer or participate in school events and activities e.g. Sports Day and Cross Country
 Support for key school activities and programmes e.g. welfare bag to encourage graduating students, Teachers' Day gifts
Parents Networking & Bonding Activities
*The following activities were conducted prior to COVID19 outbreak in 2020.
Father-Daughter Breakfast
PSG CNY networking night with new parents
PSG year-end celebration and appreciation night
PSG  Family year-end trip to Batam
Labrador Nature Walk & Mother's Day High Tea